Affordable, Easy and a

Better Alternative

to Insurance

A surprisingly affordable non-insurance
solution to manage large healthcare needs.
All just starting at $110/month.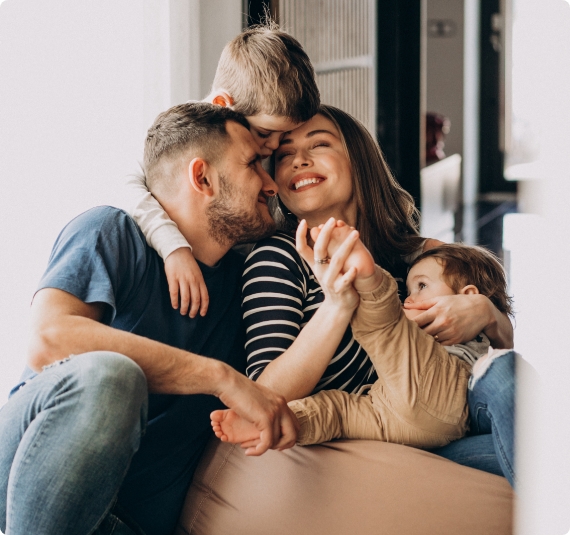 Peace of Mind
Manage large expenses including ER visits, hospitalizations, surgeries, etc. Get support 24/7.
Easy and Affordable
Memberships start at only $110/month with the option to cancel at any time. No medical tests needed.
Control & Transparency
Choose a doctor of your choice, pay directly for care, and save money. Forget complicated co-pays & deductibles.
Healthshare is affordable when you know the cost of care, and have the freedom to pick the best medical provider
Pay directly with transparent prices
Most office visits are under $150
90% of medications cost under $10/month
Tests are affordable
What you get with the WoW's Healthshare Package
Teletherapy
Pick therapist of your choice for 50-min sessions via video or phone for your privacy & convenience.
Virtual Urgent Care
Connect with a doctor within 10 minutes for any urgent needs, such as colds, minor injuries, or allergic reactions.
Dental Care
Large network of dentists for all of your dental needs with discounts of up to 60% and dental cleanings under $40.
Pharmacy
80% discount at over 65,000 pharmacies including large retailers like CVS, Rite Aid, Costco, Kroger, etc.
Vision Care
Save 70% compared to retail price without insurance on frames, lenses, exams, contact lens, and more.
Office Visits
One free visit to any medical practice for every enrolled family member, plus access to over 450,000 doctors.
Mammogram
Free yearly mammogram when prescribed by a licensed physician, starting at age 50.
Colonscopies
Free screening colonoscopy including all procedure costs, every 10 years starting at age 45.
Pediatric Care
Free pediatric immunizations and well-child visits per the guidelines of the American Academy of Pediatrics.
Let's see how it all works
Login to Start
Login to your WoW account, and click on 'Get Started' to join WoW's HealthShare community.
Customize your package
Answer a few questions about who will enroll, and choose the package that best suits your needs.
Download the app
Get the WoW Health app and see all your benefits in one place, from Everyday Care to HealthShare.
Discover the right plan for you
WoW Health believes in complete price transparency and control. Let's find the best package for you.
Don't just take our word for it
We recently joined Zion and had to use the insurance coverage very early in our membership. Zion has been absolutely great to deal with. The communication has been very clear and timely. The process was new for us, but once we understood how to submit information everything proceeded well. Reimbursements were executed quickly and were accurate. We are very happy with the service and support we have received.
Michael P.
May 20, 2021
I wanted to take a moment to personally thank you all for honoring the single IUA for my pregnancy. It means a great deal to my family and I. I cannot express enough the positive impact it will have on us emotionally and financially. It has been a hard year, as it has been for many, and this will help greatly
Marissa M.
I can get insurance through work for virtually no cost but adding the family was very expensive. I researched a few different healthshares and Zion looked the best. I like the fact they encourage functional approach and the emphasis on wellness. They have been great to work with. Quick to answer the phone and when we did make a mistake on being a couple of days early on a waiting period had the grace to work with us
Andrew D.
I LOVE Zion HealthShare! My husband and I signed up with them right before getting pregnant and they were so incredibly helpful through the process of getting us what we needed for maternity coverage. I've communicated with them over the phone and email and they are always extremely helpful, thoughtful, and very responsive. I can't count the number of times I've told my husband how awesome they've been through the maternity process. They've even reached out just to check in and see how my pregnancy is going! Truly amazing. I would absolutely refer Zion HealthShare to anyone looking for an alternative to traditional health insurance
Jessie D.
After researching Health sharing options a couple of years prior, I was glad to finally find a company that offers great coverage at an affordable cost! When I lost my job at age 62 and needed coverage, I found that ZION Health offered the best coverage at the best cost and my doctor was in their provider list as well. Beyond that, the customer service was actually beyond my expectations. Fortunately for me, I got a new job but unfortunately my new job doesn't allow me to use Health Sharing for medical coverage and as such I am forced to go back to the old medical insurance system. Perhaps that will change in future and if it does I will go back to ZION Health for my coverage. Thank you ZION Heath for being there!
Steve L.
Zion Health is a beautiful healthshare! The process to enroll is extremely easy, and everyone is so helpful and kind. There are many amazing perks that go along with Zion Health. I think everyone should have an opportunity to learn about Zion Health, and realize what they have to offer compared to other healthshares.
Sadie B.
Our Partners
You got questions?
Well, we got answers.
If you want to know more about how WoW works, you can always reach out to us!