Affordable Medications,
available at your local pharmacies
Over 90% of prescribed medications are less than $5 with our
discount program. Check your W oW app for pricing while you are
with your doctor to make sure that you get the medication which
you can afford, and have it sent to the correct pharmacy.
With a perfect mix of large retailers like Walmart, CVS, Walgreens,
and independent pharmacies, we have got you covered nationwide!
Search for drugs
Benefits you get
Pharmacy benefits to WoW you
Nationwide network
Over 65,000 pharmacies with large
retailers like CVS, Walmart, Costco, etc.
Transparent pricing & Access
Check the WoW app or website for drug
pricing and local pharmacies.
Save Money
90%+ are under $5…consult with
your doctor to get the one you can afford.
How does it work?
As a WoW member, follow these simple steps
1
Lookup the drug price and pharmacy from the WoW app or website.
2
Get the prescription sent to the correct pharmacy.
3
Show your pharmacy card, either in the WoW app or print it and take
it with you.
4
Pay the discounted price at the pharmacy
Comprehensive care without the hassle
How to access your Pharmacy Benefits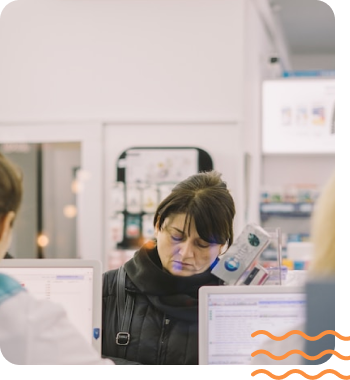 Search for Medications
Discounted medications at over 65,000 pharmacies
Frequently Asked Questions
Take control of your healthcare
with our easy to use app