Available In all 50 states
24/7 Virtual Urgent Care
Network of 1M+ doctors, dentists, pharmacies, eye clinics, & labs
Bright side of WoW Plus
Forget high cost insurance with premiums, copays, deductibles, and coinsurances and enjoy the amazing benefits of WoW Plus package!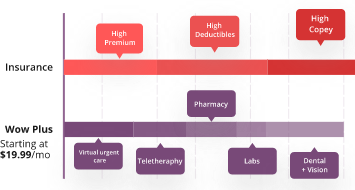 WoW Plus
Starting at $19.99/mo
High Premium
High Deductibles
High Copay
Virtual urgent care
Teletheraphy
Pharmacy
Labs
Dental + Vision
Choose your favorite care package
FOR INDIVIDUAL & FAMILIES
WoW Plus
Unlimited discounts for all of your healthcare needs
Starting at $19.99/mo
Virtual urgent care visits - 50% off
Teletherapy sessions - 50% off
Prescriptions - up to 80% off
Doctor's office visits - up to 60% off
Lab tests - up to 60% off
Imaging centers - up to 75% off
Learn More
FOR INDIVIDUAL & FAMILIES
Dental
Get discounted rates for dental care & vision care. Keep smiling!
Starting at $12.50/mo
Dental procedures - up to 60% off
Vision care - up to 70% off
Learn More
FOR EMPLOYEES
Sponsored by your organization?
Don't let the opportunity that is banging on your door go away! If you are already sponsored by WoW Health then login now and save fortunes.
Login
What's so wow about WoW Health?
Every dentist gave me a different opinion for my toothache, I was devastated at a point. A friend told me about WoW Health and its efficient services. I was reluctant initially since it was all virtual but honestly if anyone asks for my opinion now, I would always recommend WoW.
I am a member at WoW, you would not believe how happy I am to enjoy unlimited discounts on their services. I am stress free now! I don't have to save for healthcare services anymore. Instead, I can go have as much Mc Donald's as possible.
I was so depressed due to some personal reasons and was too shy to go see a therapist. Thanks to WoW I accessed the therapist online and no joke, I feel so much better now. The therapist session was worth every penny!
I was so confused about my vision care appointments, I had no idea who to pick. WoW showed me a gateway towards multiple discounted vision care clinics. I am glad I found WoW.
My kid got sick at 4 in the morning. He wasn't in a position to go to the hospital. Thanks to WoW I got all my assistance online and my kid was smiling again! I am so grateful to WoW.
Featured in WoW for Employers
Partner with us and get affordable health benefits for your employees starting at $5 per month per employee!
Learn more
Take control of your healthcare by our easy to use app